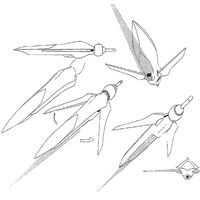 The HUNTER (High-Output Unified Networked All-Terrain Energy Rapid Attack) System was a weapon system found in Galactic Colonization timeline. It was primarily featured in Mobile Suit Gundam Galactic and all of its associated works.
Description and Characteristics
History
The HUNTER System was developed by Shiina Nero of the Human Federation's Mobile Suit Research and Development Institute.
Notes
Trivia
Behind the Scenes
Ad blocker interference detected!
Wikia is a free-to-use site that makes money from advertising. We have a modified experience for viewers using ad blockers

Wikia is not accessible if you've made further modifications. Remove the custom ad blocker rule(s) and the page will load as expected.