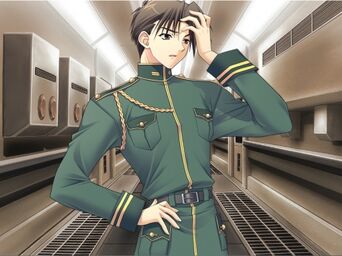 General Gordon M. Renato or called Renato is respective Veteran and FAITH officer of ZAFT forces Renato recieve the ZGMF Arms Astray PMC Custom by Gilbert Dullindal because Dullindal have a trust to him that Renato can bring the war to the end... because shinn cannot end the war in single shot of destiny gundam so that gilbert Dullindal summoned Dr. Frederick and then Frederick build the Arms Astray the new Version of ZAFT custom Gundam and Renato is the only pilot that can mobilize it..... In end of Gundam Seed Filipino Version Renato stop the genesis from firing by using a shield from his mobile suit so that how its end..... and to the future after a gream war Between ZAFT and Earth Forces Jordan and the whole gundam seed filipino characters facing the challenge of the New enemy the (Bakulaw)
Gordon M. Renato
Voiced by:

Michael Tongol (GS, GSD,GSDF)

Jopet Niebla (GS,GSD)

Aliases:
Renato
Genetic Type:
Naturals
Born:
January 4 C.E.59 at Panama
Nationality:
Atlantic Federation
Parents:

Alehandro Renato (Father, deceased)

Mariafe Renato (Mother, deceased)

Rank:
General (GS, GSD)
Allegiance and Organization

ZAFT Forces

FAITH (GS, GSD, GSDF)

Uniforms:

(Green) when he was an ordinary soldier of zaft and pilot of ZGMF gouf ignited

(Red) he promote to general and assign by higher headquarters to lead the New FAITH under his command

Awards:

FAITH Badge

white snow badge




ZAFT loyalty award (natural Version)




Cross my Hearth

Motto:
hindi mo pa sya kayang labanan.!!
Ad blocker interference detected!
Wikia is a free-to-use site that makes money from advertising. We have a modified experience for viewers using ad blockers

Wikia is not accessible if you've made further modifications. Remove the custom ad blocker rule(s) and the page will load as expected.